Yamaha DTX6K-X Electronic Drum Set
Availability:

In Stock

Product Code:

Yamaha DTX6K-X Electronic Drum Set

Brand:
Powered by Yamaha's Next-level DTX-PRO Drum Module
With its DTX-PRO drum module and expressive 3-zone ride and snare pads, the Yamaha DTX6K-X packs major value for the drummer who wants a set-up-and-start-rockin' set of electronic drums. Choose from 40 preset studio-sampled drum kits, or create up to 200 custom kits using the DTX6K-X's 400 onboard assignable sounds. More tone modification is possible in seconds flat using the DTX-PRO's Kit Modifier section — dial in room ambience, compression, and special effects with the twist of a few knobs. In concert with its durable Yamaha hardware and TCS/rubber pads, the DTX6K-X has all the ingredients you're looking for in a mid-level Yamaha kit: high-quality sound, ease of use, and responsive performance. You'll even find training tools and a record function right inside to better you as a performer. No band in sight? Pull up the DTX-PRO's 37 onboard playalong tracks and jam the night away.
DTX-PRO Module
40 studio-captured preset kits
Yamaha's DTX-PRO drum module sets you up with 40 complete drum kits, captured with all the punch, definition, and realism of a world-class studio environment.
200 custom user kits
Advanced users can use the DTX-PRO's 400 assignable voices to create custom kits for stage and studio. Want to blend electronic kick and snare with world percussion and acoustic cymbals? The DTX-PRO is your ticket to one-of-a-kind hybrid kits.
One-knob Kit Modifiers
The DTX-PRO's Kit Modifier section packs some extraordinary utility into just three knobs. You don't have to be a tone expert or electronics wizard to dial in custom sounds on this module. Just spin, set, and save.
Ambience: this dial adjusts how "wet," or roomy, drums and cymbals sound in your virtual environment.
Compression: drums really come alive with a shot of compression. A single Comp knob eliminates the need to worry about ratios, thresholds, and knees — just twist until it sounds good.
Effect: this control delivers a diverse range of expression with the twist of a knob.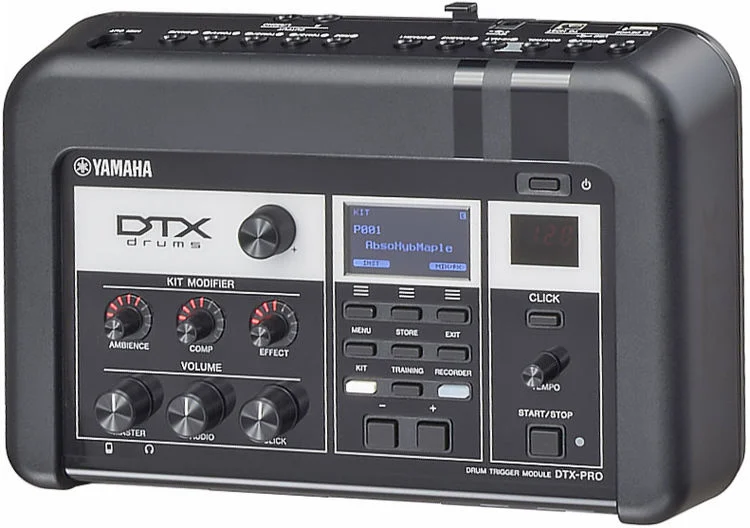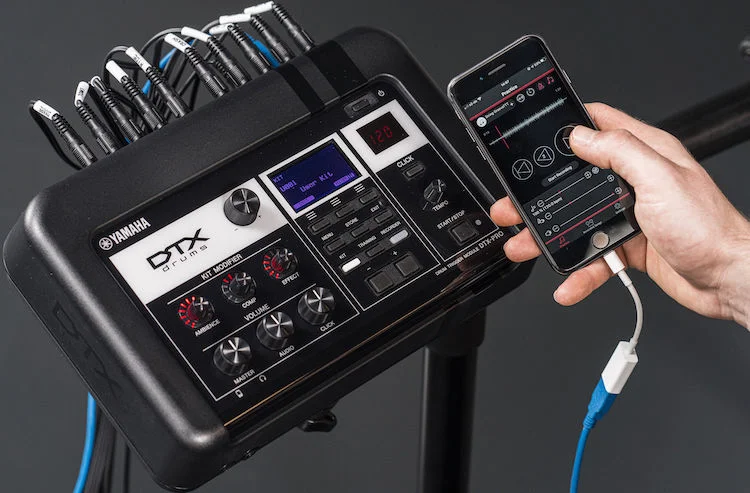 Loaded with training tools
Whether you're seasoned pro or you're just starting out, the DTX6K-X's DTX-PRO module packs the tools to make you a better drummer. You get a sophisticated programmable metronome to rein in tricky fills, 37 training songs to workshop grooves and pocket, and 10 onboard training functions for sharpening your chops. There's even a record function so you can capture ideas and monitor your progress as you move along.
DTX6K-X Pads and Stand
Expressive 3-zone TCS snare pad
The snare is the centerpiece of any drum kit, electronic or otherwise. At Sweetwater, we are happy to report that the Yamaha DTX6K-X cuts no corners in this department. Its included XP80 pad gives you three separate zones for head strikes, rimshots, and cross-sticks. The Textured Cellular Silicone (TCS) playing surface is designed to feel like a real coated drumhead — only it's soft and easy on the joints, which is important when you're playing night after night. The XP80 snare is paired with a trio of single-zone rubber tom pads and Yamaha's KP65 kick tower for impressive expression across the kit.
Chokeable 3-zone ride
Equally impressive is the DTX6K-X's included 3-zone PCY135 ride cymbal. This ride gives you distinct edge/bow/bell zones to deliver a lifelike ride cymbal response. For instance, you can choke the PCY135 after a crash by grabbing it anywhere on the edge of the pad. You can even mute the cymbal before striking it to create unique sonic textures. This creates an extra level of realism you don't get with many electronic drum kits. The PCY135 comes paired with the HH65-controlled PCY95 hi-hat and an additional Yamaha PCY95 crash cymbal.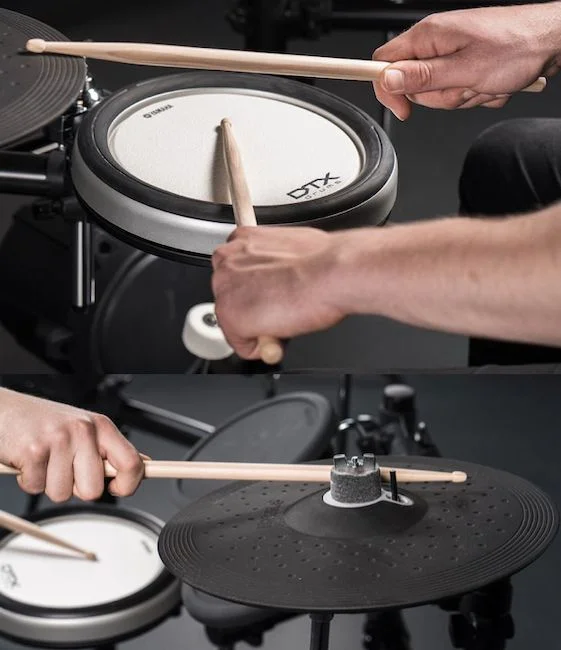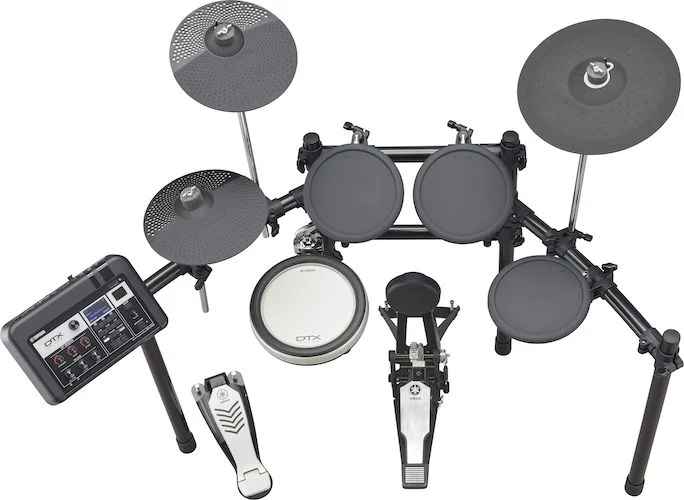 Yamaha RS502 rack system
A solid kit requires a solid foundation. And that's why the Yamaha DTX6K-X includes the RS502 rack stand for effortless setups and unflappable security. The RS502's 1mm steel piping gives you a solid footing against tipping and rocking without excess carry weight. It comes outfitted with Yamaha's legendary mounts, booms, and clamps for peace of mind in the heat of a performance. And what about for the off-season? The RS502 folds up neatly for storage.
Yamaha DTX6K-X Electronic Drum Set Features:
Responsive, expressive, and fun to play

Powered by Yamaha's next-level DTX-PRO drum module

Features 40 preset kits, 200 user kits, and 400 assignable sounds

Packs major value for the beginning to intermediate eDrummer

Kit Modifier section lets you dial in room ambience, compression, and special effects with the twist of a few knobs

Onboard training tools to hone your skills

3-zone XP80 snare pad with TCS silicone head

PCY135 ride pad gives you distinct bow, bell, and edge zones

What's included: DTX-PRO module, XP80 TCS snare, 3 TP70 rubber toms, KP65 kick tower, PCY135 ride cymbal, HH65/PCY95 hi-hat, PCY95 crash, RS502 rack stand