Blackstar Fly 3 Pack Vintage 3W 1x3 inch Combo Amp with Extension Speaker
Rp

1,750,000
Rp

1,400,000
You save Rp 350,000
Availability:

In Stock

Product Code:

Blackstar Fly 3 Pack Vintage 3W 1x3 inch Combo Amp

Brand:
A Vintage-styled Amp That You Can Take Anywhere!
Guitarists love the Blackstar FLY 3 Vintage Stereo Pack. This portable battery-powered guitar combo amplifier and extension cab are pure entertainment! Although it's tiny, the 3-watt FLY 3 Vintage packs a mighty punch, even at low volumes. And it sounds great! Experience infinite tones with Blackstar's patented Infinite Shape Feature, while the onboard tape delay effect adds dimension to your playing. Enjoy private practice sessions with a speaker-emulated headphone output, or plug in the included extension cabinet for 6-watts of sweet stereo sound. Complete with an eye-catching vintage cream finish, chicken-head knobs, and oxblood red grills, the FLY 3 Vintage Stereo Pack makes a great traveling companion.
A portable 3-watt guitar combo amplifier
The Blackstar FLY 3 Vintage is a feature-rich portable guitar combo amplifier. Two channels provide clean and overdriven tones. Its Infinite Shape Feature serves up a plethora of tonal choices. Dial in modern American sounds, classic British vibe, and everything in between. A tape delay effect adds dimension to your playing. And the FLY 3 Vintage packs quite a punch for a 3-watter!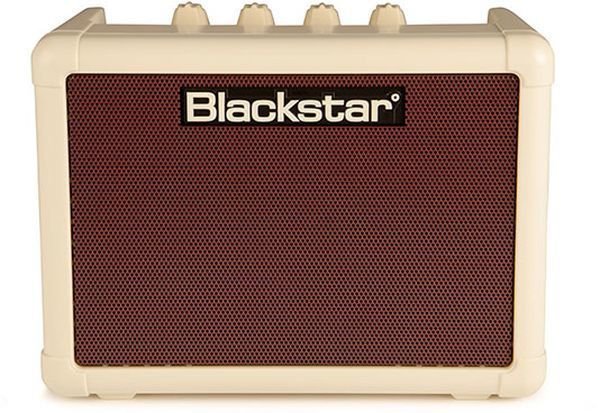 Upgrade your computer's speakers
Connecting the included FLY 103 cabinet transforms the Blackstar FLY 3 Vintage into a premium set of stereo computer speakers. Experience top-notch sound while you surf the web. Enhance your movies, music, and more. Enjoy audio quality that's on par with the best PC speakers on the market.
Enjoy your favorite music anywhere
The Blackstar FLY 3 Vintage makes a killer battery-powered multimedia speaker. Stream your favorite tunes from a smartphone, tablet, laptop — any device that can connect via the MP3/Line In jack. You can even plug in your guitar and jam along with your favorite songs on Spotify, Pandora, or YouTube! You'll find many guitarists here at Sweetwater out and about with their FLY 3 Vintage — they're a lot of fun!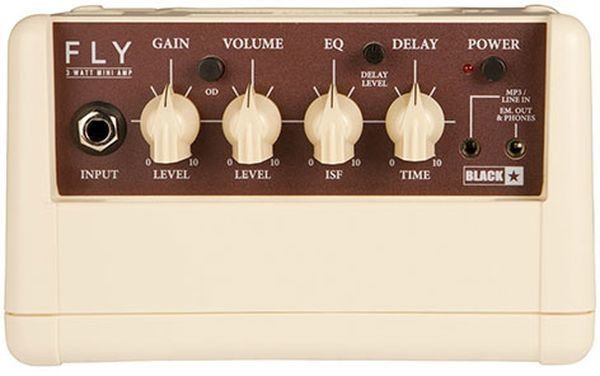 Blackstar FLY 3 Vintage Stereo Pack Features:
2 channels provide you with clean and overdriven tones
Infinite Shape Feature gives you a plethora of tonal choices
Tape delay effect adds dimension to your playing
Connect the included FLY 103 cabinet to enjoy stereo sound
MP3/line-in for jamming along or listening to music
Emulated line-out for silent practice or recording
1 x 3" speaker delivers true Blackstar tones
Battery-powered design lets you take it anywhere
Uses 6 AA batteries or included power supply
Eye-catching vintage cream finish, chicken-head knobs, and an oxblood red grill
Extension cable is included