Precision ADAM Monitoring for Home and Pro Studios
The ADAM Audio A3X is a popular nearfield monitor found in home and project studios worldwide. An active vertical 2-way design, the versatile A3X provides a balanced sound with transparent high-frequency reproduction, clear midrange, and superior transient response. The A3X's large, front-baffle bass reflex ports are precisely matched with the bass/midrange driver, giving the speaker natural, well-controlled low-end dynamics. The woofer's 25-watt PWM amplifier, in combination with the 25-watt Class AB tweeter amp, enables a pair of A3Xs to achieve a maximum SPL of 106dB at one meter. Engineered in Berlin to the strictest tolerances, ADAM's AX series monitors feature cutting-edge technology, including the company's renowned, handcrafted X-ART accelerated ribbon tweeter. With its compelling price/performance ratio and compact footprint, the A3X brings ADAM Audio's world-class monitor performance to space-challenged home and project studios on a tight budget.
4.5" carbon fiber low-frequency driver
The drivers in ADAM Audio studio monitors benefit from years of in-house research and development and take advantage of the latest advances in technology and materials science. The carbon fiber woofer in the A3X is engineered to deliver optimized low-frequency reproduction with extended dynamic range and freedom from coloration. It incorporates a rigid yet low-mass honeycomb driver cone, a highly efficient magnet assembly and precisely aligned voice coil, and an optimized driver chassis/basket design. The A3X's 4.5" woofer extends response down to 60Hz, making the speaker a superb choice for nearfield monitoring, especially when combined with a subwoofer.
The X-ART folded-ribbon tweeter
Instead of producing sound with a piston-like diaphragm like most loudspeakers, ADAM Audio's X-ART folded-ribbon tweeter uses a pleated diaphragm capable of moving air four times faster than the folds themselves are moving. Handcrafted to the tightest tolerances, the X-ART tweeter delivers ultra-low distortion and breathtaking highs up to 50kHz, enriching the soundfield with stunning detail and faithfully conveying every nuance of the source material so you can work over long periods without listening fatigue. Being handcrafted and meticulously tested in the ADAM's Berlin laboratories, the X-ART high-frequency driver is a rare exception in these days of automated mass production.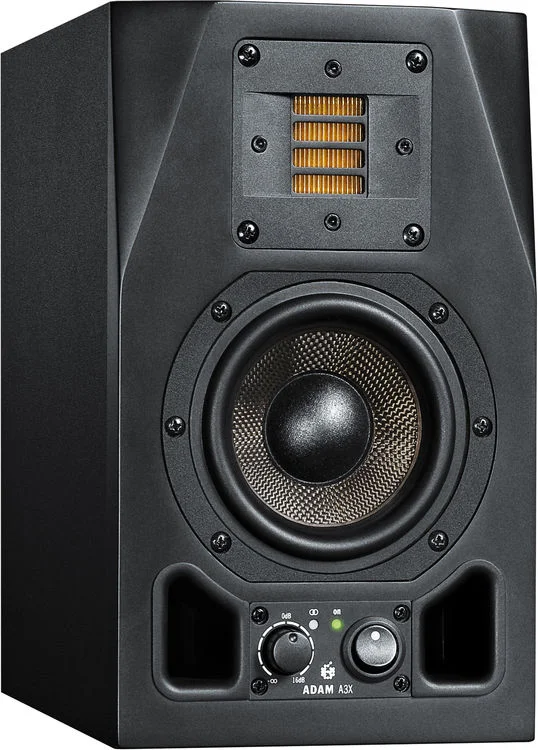 Stereolink
The A3X is equipped with a Stereolink feature that provides two additional input and output jacks for the second stereo channel, allowing you to control the volume of both monitors using the volume control of only one speaker. The volume control of the second monitor only affects its own volume, for easy fine-tuning to compensate for differences in listening distance. Unlike most master/slave configurations, each A3X is fully equipped and can function either as a master or a slave unit.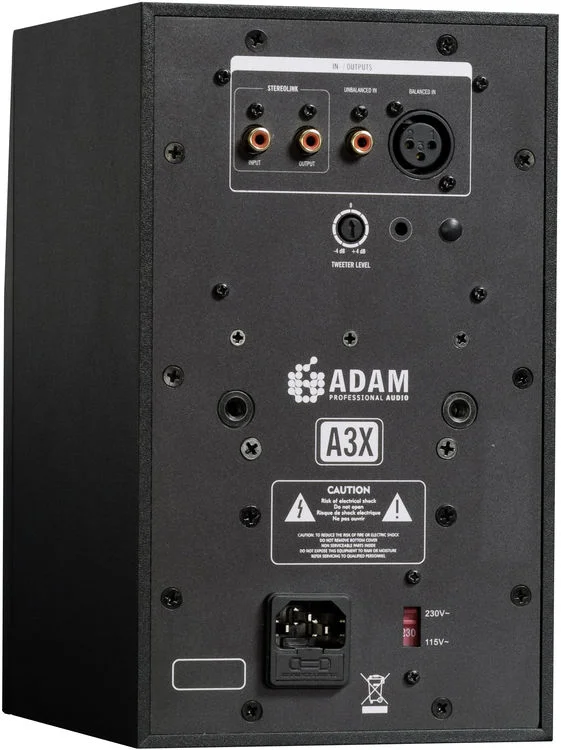 ADAM Audio: elevating the state of the art
From its 1999 launch in Berlin, ADAM Audio has built a solid reputation among the pro audio cognoscente. Sweetwater knows that a superior speaker system has superior components, and this is one area where the company has a distinct edge. With years of R&D behind each proprietary driver, ADAM Audio's custom driver technology expresses itself in breakthroughs such as their X-ART (eXtended Accelerating Ribbon Technology) tweeter, which is based on a groundbreaking 1960s invention, the Heil Air Motion Transformer — and in fact, was the main impetus for the formation of ADAM Audio. The X-ART tweeter became the key to ADAM's signature transparent, high-definition sound; and the core development of ADAM's proprietary designs going forward.
Embracing, exploiting, and working with modern materials has allowed ADAM Audio to formulate loudspeaker components that continually elevate the state of the art in studio monitor design. Materials such as rare-earth magnets and high-strength diaphragm foils have increased reliability, enhanced performance, and made possible new driver geometry. As compared with conventional driver technology, ADAM drivers deliver optimized radiation characteristics, lower distortion, and higher efficiency. Along with installations in a growing number of top studios, ADAM Audio's monitor range has garnered rave reviews from audio experts and recording engineers worldwide. If you're considering an upgrade to world-class monitoring, you'll be in good company with ADAM Audio monitors.
ADAM Audio A3X Active Nearfield Studio Monitor Features:
Vertical 2-way system with 1 x 4.5" carbon/Rohacell/glass fiber woofer and X-ART tweeter

X-ART tweeter, handmade in Berlin and manufactured to the tightest tolerances

Large bass reflex ports, volume control, and power switch on the front baffle

Stereolink feature for convenient master/slave setups

Highly efficient 50-watt PWM bi-amplification

Linear frequency response of 60Hz–50kHz

Maximum peak sound pressure per pair at 1m ≥ 106dB

Analog XLR and RCA inputs

2-year warranty; optional extension to 3 years with product registration

Sold individually